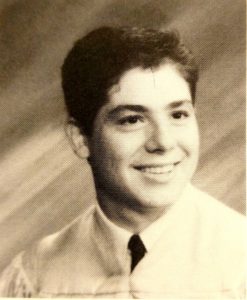 The Austin Alumni Association proudly announces
the 2017 Austin High School Outstanding Ex
Edmundo Lujan
Class of 1991
Detective Edmundo Alejandro Lujan has served with the Dallas Police Department for 21 years, and is a 1994 graduate of the University of Texas at El Paso, with a degree in Education and Kinesiology. He is also a fourth degree Knight with the Knights of Columbus; a Eucharistic Minister at St. Ann's Catholic Church in Coppell, Texas, where he teaches Bible study; is a booster with the Lewisville High School swim team; volunteers with the NLLEO-GDC Signal 15 program; and volunteers and is a director with the Assist The Officer program. Ed has been married to his wife of 21 years, Marcela and is the father of two children, Ashley and Branden.
On November 8, 2015, at around 10:47pm, Ed was working in an off duty capacity, in full uniform.  A disturbance occurred inside a night club, which led to a patron being escorted out. A valet retrieved the patron's vehicle. The patron entered the vehicle, backed his vehicle, striking a police officer, then accelerated forward, driving towards Ed and another officer. Ed and the other officer moved onto a grassy median in an attempt to avoid being struck. The patron then drove over the grassy median towards the officers. The other officer was able to move away from the vehicle, but Ed was struck and pinned underneath the vehicle. Thereafter, the patron back up over Ed, and then forward over him again, nearly killing him. Ed sustained the following injuries: lacerations to the head (almost causing his scalping), a cracked skull, a partially detached ear, twelve broken teeth, a severed tongue, broken vertebrae in his neck, a broken sternum, broken ribs, a dislocated hip, a broken leg, a broken ankle, torn ligaments in his foot and a torn Achilles tendon. Ed also suffered head injuries causing short term memory loss and loss of cognitive skills; and an eye injury leading to partial blindness in his right eye. Ed has undergone over 30 surgeries during his long process of recovery. Nevertheless, within a few weeks, Ed was able to begin therapy and was tenacious in the process. Doctors were surprised by his progress as the weeks went by.  His recovery was a month ahead of schedule.
Throughout this process, Ed did everything within his power to recover and return to the job he loves. Detective Lujan believed wholeheartedly that his return to the job, working around his fellow detectives, would accelerate his recovery time. On May 17, 2016, approximately six months after his near death experience, Ed returned on a part-time basis. On July 11, 2016 Ed was placed on full time light duty. On August 24, 2016, Ed progressed to the point in his recuperation that he was able to return to full duty. Ed has also returned to teaching the Financial Investigations class at the Basic Academy and In-Service Academy. Ed has achieved his certification as a Texas Commission on Law Enforcement instructor since his return to full duty. Through all this — events which would have kept most people down far longer, and perhaps permanently — Ed has not only survived, but thrived, thanks to the love of his family, sustained by his faith, and maintaining a cheerful disposition. He personally forgave the man who nearly killed him. He is, in short, an Austin Panther.
Detective Edmundo Lujan was awarded the 2017 Star of Texas Award and the Theodore Roosevelt Award for Dallas Officers.  Congratulations Ed!