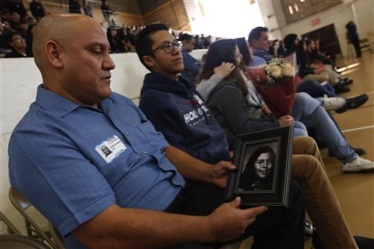 (AUSTIN HIGH SCHOOL — Jan. 23, 2020) — The life and legacy of an Austin High School alumna killed in the Aug. 3 attack at the Cielo Vista Walmart was celebrated on Thursday during a poignant memorial that united her family with a new generation of Panthers.
Maribel Hernandez-Loya, a 1980 graduate, and her husband Leo Campos died that tragic August day. Her brother reminisced about her life and time at Austin – telling students of the good times they had in the very same gym that hosted the memorial, cheering on their fellow Panthers at pep rallies.
"I want her to be remembered as a beacon of what was happening here at Austin High School in the 1980s – goodness, happiness, no hate," her brother Albert Hernandez said. "We don't want her to be remembered by what happened on Aug. 3. We want her to be remembered as a beacon of light, a beacon of peace."
The memorial was a project led by a group of Austin's Panther New Tech/Sandra Day O'Connor Public Service Academy students who wanted to do something to honor one of their own.
"We wanted to figure out a way to honor her and celebrate her life," said senior Dylan Mauldin. "One message we want students to walk away with is that no matter what generation you're from, what year you graduated, no matter what you do or what your race, culture or religion is, we are one big family. Everyone respects each other here."
Mauldin and student organizers offered words of hope, often touching on what it means to be a Panther and the culture that is now known as El Paso Strong.
"We know we can't replace her, but we can support each other, celebrate her life and heal together," senior Francesca Ramirez told the family before presenting them with flowers and a framed photo of Hernandez-Loya taken during her sophomore year at Austin.
Mariachis, the choir and the jazz band contributed to the uplifting tribute. The Austin High-based Nueva Frontera band perfectly ended the ceremony with a bilingual rendition of the song "We Belong Together," made famous by Ritchie Valens.
"This represents our community," said Yvette Shibley, Hernandez-Loya's daughter.
"Not only are they sharing their love and extending it to my mom even though she had been out of school for a long time, there are also sharing it with her extended family. It's been very touching. They've embraced us and there's nothing better than that right now."
But more importantly for Shibley is the legacy of this next generation and the difference they can make by spreading their love and acceptance. She finds that the majority of mass shooting assailants happen to be in the age group just older than the current class of high-school students. For her, the ceremony offered a sign of hope.
"I'm hoping these kids right now are going to take over that generation and take over all the craziness we've had in the past few years," Shibley said. "They are trying to support us but more than anything I want to support them because we are counting on them. This our future."Story by Reneé De Santos
Photos by Leonel Monroy
STORY TAKEN FROM EPISD.ORG : https://www.episd.org/site/default.aspx?PageType=3&DomainID=4&ModuleInstanceID=101&ViewID=6446EE88-D30C-497E-9316-3F8874B3E108&RenderLoc=0&FlexDataID=30353&PageID=1